Shredded Santa Team Challenge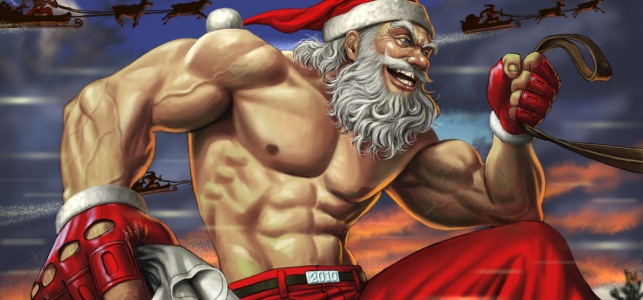 Santa must eat meats, veggies, nuts and seeds, some fruit, little starch and no sugar.
Starting on November 8th and ending on December 22nd , we will be hosting our first team challenge. Our "Shredded Santa Team Challenge" will put you and a partner against other two person teams in a challenge attempting to do what some consider the impossible, to eat clean and stay focused on your nutrition during the holiday season. 

Like most challenges, Shredded Santa Challenge will be based on coach-reviewed photos and the data received from the Hydrostatic body fat test to determine which team of two have made the best improvements over the 6-week period. Only one partner is required be a Ruination member, so prepare your spouse, friend or family member for their healthiest holiday season ever , and you could win a nice lump sum of money!!! 

On Thursday, November 8th, between 4:00 and 7:30 pm, both members of the team will need to visit Ruination Crossfit so that before photos can be taken and the dunk test can be performed. For the pictures men need to wear gym shorts and women need to wear a sports bra and gym shorts. These clothes should be SOLID color, and will be the exact same clothes that you re-take your photos in at the end of the challenge. We will also complete a benchmark workout at the beginning and end of the challenge during our regular class schedule. The benchmark workout will not be a factor during the voting for the winners.
A sign up sheet will be at the gym for the body fat test tomorrow. Spots are available every 10 minutes, starting at 4pm and running until 7:30pm. First come first serve.

Entry Fee: $99/person (a link will be available tomorrow for registration)
Team Prizes: We need at least 10 teams in order to get a 20% discount for the body fat testing. If we can make that happen we will have up to $500 in cash prizes for the top 3 teams, and some cool swag too!!!!

For those participating, we are also hosting a variety of events and seminars to help you to help you stay focused and on track during the 6-week challenge:
Nutrition Fundamentals Seminar – On Saturday, November 1oth at 6:30 p.m. we will host a one-hour seminar covering the basics of good nutrition. This will be structured to allow for plenty of questions and answers and will be hosted by Ruination coaches. This will be free for all Challenge participants. $20 for non-challengers.
Paleo Pot Luck Get Together – During the 4th week of our challenge we will have a get together at the gym to share our favorite Paleo friendly dish with the other contestants and members of Ruination Crossfit. More details on this as the challenge kicks off.
Lastly, if you don't have a teammate for this Challenge, just let us know. Our staff will compile a list of interested challengers who need partners. We'll be happy to pair you up and help you make a new great friend who is as committed to their health and fitness as you are.
Get ready for a healthy holiday season!
If you have any questions, please feel free to ask one of the Ruination staff, or post to comments and we'll get you the answer as fast as possible.
Please check your emails for a message from the management at Ruination. Its covers details on membership agreements and provides a link to take care of your monthly dues. Thanks everyone!

Tuesday October 30th 2012

5:30, 6:30, 9:00 am
4:30, 5:30, 6:30 pm
* Take note of the new class times
WOD
A. Build to a heavyish hang (above the knee) squat snatch in 4 – 5 sets. Spend some time building up to a weight which feels challenging and then hit 4 – 5 more sets trying to increase after each attempt.
B. For time:
500 Meter Row
30 Split jerks (185/115)
30 Burpee (bar facing)