Saturday March 23rd 2013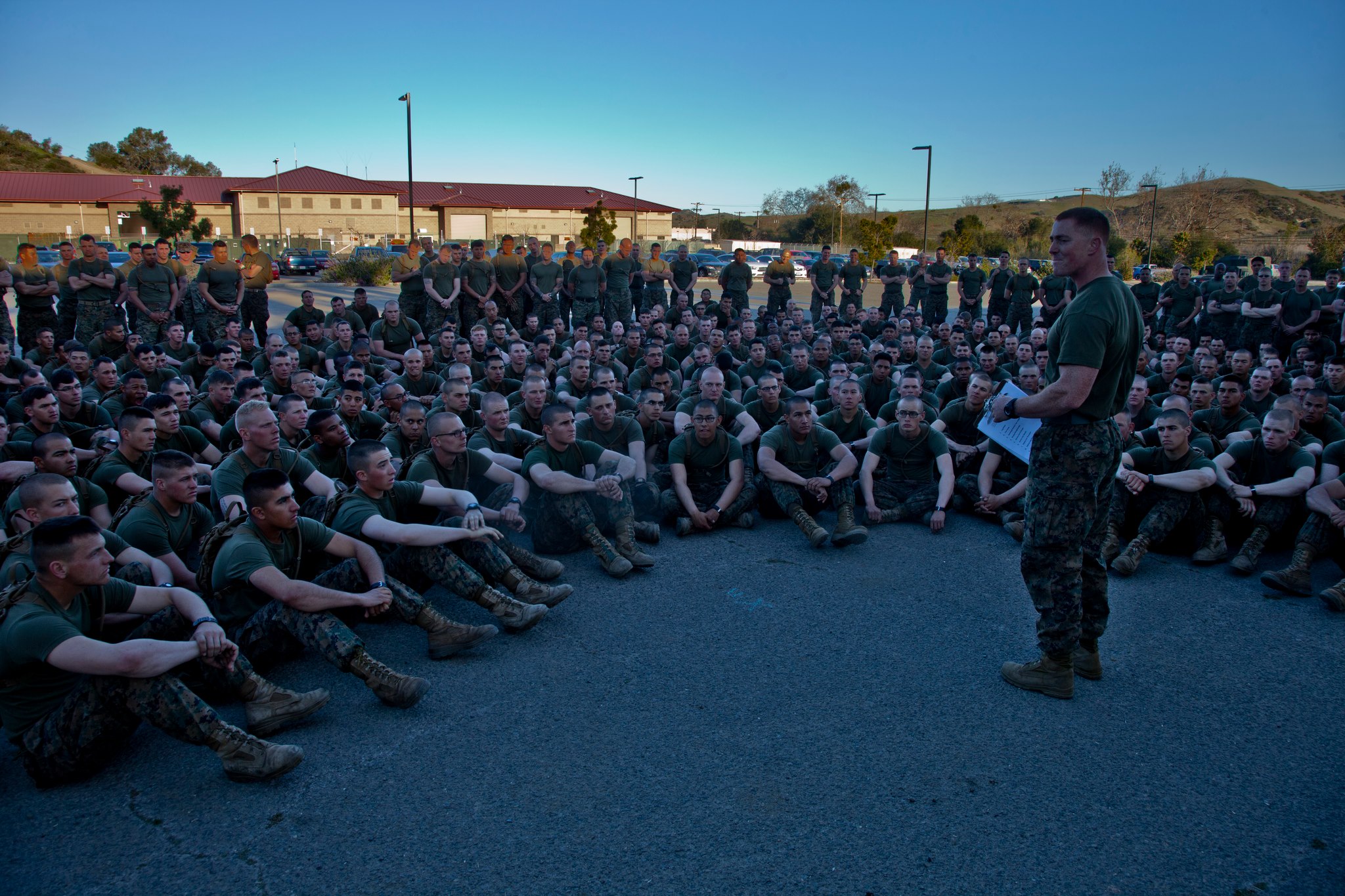 Harry briefing his Marines for their workout
Crossfit team WOD (9:00 am)
In teams of four, complete the following…
Build to a max effort Front squat (10:00 min)
– Teams will get one rack. All four members must establish a one rep max.
– Score is teams total weight
Then…
200 Meter run
30 Dead-lift (205/145)
15 Burpee
200 Meter run
30 Thruster (115/75)
20 Handstand push-up
200 Meter run
30 Hang squat snatch (65/45)
25 Pull-up
PumpFit (7:00 am)
This WOD is a tribute to coach Harry and his last Saturday class with us. The workout is a variation from the website Brass Ring Fitness. Here is the scenario…
SITUATION:
An African warlord, who has been in hiding, is beginning to resume his brutal attacks of jungle villages. His activities include taking over a village, stealing from the villagers, and raping the women and killing the men. Based on satellite images and human intelligence sources, a large contingent of the warlord's army will be moving through the jungle later today to a location outside another village they plan to attack.
OBJECTIVE:
As part of a small Special Operations team, you will patrol deep into the jungle to a location they will have to travel through, and set up trip wires and booby traps for the foot soldiers that will precede the warlord. Because the warlord will travel behind the first wave of foot soldiers, it is important that you set up enough traps to disable the majority of the scouts, then move back into a position to ambush the heavily armed force protecting the warlord. You will need to move fast, as there is not much time.
"Full Mission Profile" WORKOUT
– In teams of three complete the following mission….
PHASE 1 – SET UP BOOBY TRAPS
Max time –  25 mins
Carrying 2 Sandbags (60/40) bags Patrol to location – 2 mile run
At location…
Set up maximum number of traps – each trap consists of the following:
20 Push Ups
20 Sit Ups
20 Squats
– Each member must complete the required reps
Run 400 meters to next location.
– You must set at least 5 traps in the 25 minute time limit.
PHASE 2 – PATROL TO AMBUSH LOCATION
Run 2 miles, doing 5 burpees every 400 meters
You have 20 minutes to get to ambush site
PHASE 3 – AMBUSH
One person works at a time, other members must keep sandbags off of ground
7 Dead-lift (135/95)
5 Front squat
3 Shoulder to overhead
Run 50 Yards with kettle-bell
– Teams will have 15 minutes to complete AMBUSH