Referral Bonus Program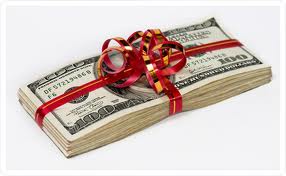 We are happy to announce our new Member Referral Program.  Basically, when your friends and family join Ruination as members, you will get $25 off your next month's dues.  There is no limit to how many referral bonuses you can earn, but if it exceeds your monthly dues, it will carry over to the next month.  Here are the details:
– Bring a friend or family member to Ruination to try out a class.
– If they are new to CrossFit they may require completion of an On Ramp class.  This can be either 1-1 on ramp or our new group on ramp class.
– Once they have completed On Ramp (if required) when they sign up to become a member, you get the one time $25 referral bonus credited to your account.
The fine print.  The referral must be a new person that has not trained with either Rich or Paul before.  Send Mike an email (mike@ruinationcrossfit.com) of the referral before they begin On Ramp.  Otherwise, how would I know who was a referral and by whom?  Anyway, share your love of CrossFit with your friends and family, help us grow the community and make some scratch at the same time!  Let me know if you have any questions or comments.