On Ramp Fundamentals Course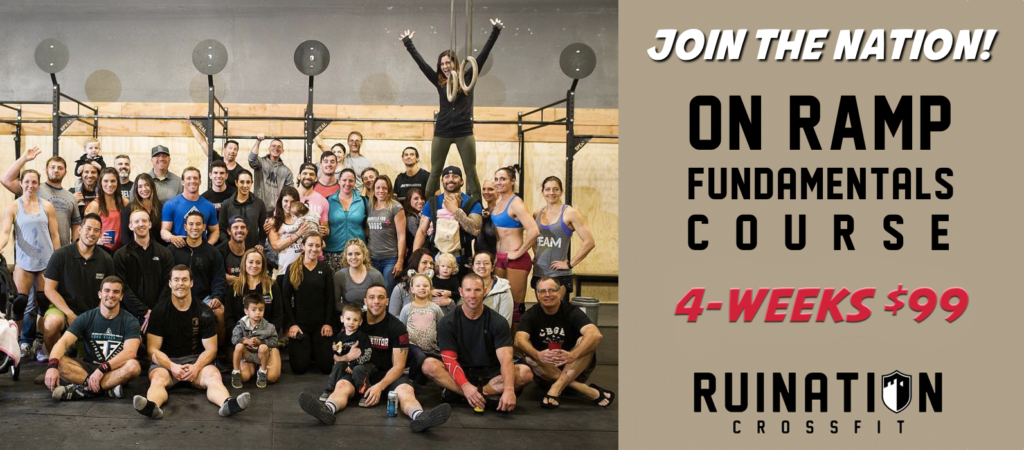 Our 4-week On Ramp Fundamentals Course is now On-Going.  Jump Right In!  
If you have ever wanted to try CrossFit, now is your chance!  
---
Our coaches will teach you all of the foundational movements so that you can "graduate" to regular CrossFit classes.  Over the course of the 4-week course you can expect to learn:
Rowing, Running
Pull-Ups, Push-Ups, Burpees, Box Jumps
Squats, Deadlifts, Olympic Lifts
Kettlebell Swings, Wall Balls
Each class will feature a warm-up, skill session and a workout.  Come prepared to get fit and have fun!
Classes will be held on:
Mondays 7-8pm
Wednesdays 7-8pm
Saturdays 8-9am
---
Jump In Today and Get Started!
---
Spots are limited so don't delay!  Register here or contact us at info@ruinationcrossfit.com
If these class times do not work with your schedule no worries!  You can do an accelerated 4-session On Ramp with a coach that is based around your schedule.  Email us for more details!