MMMMMeat Loaf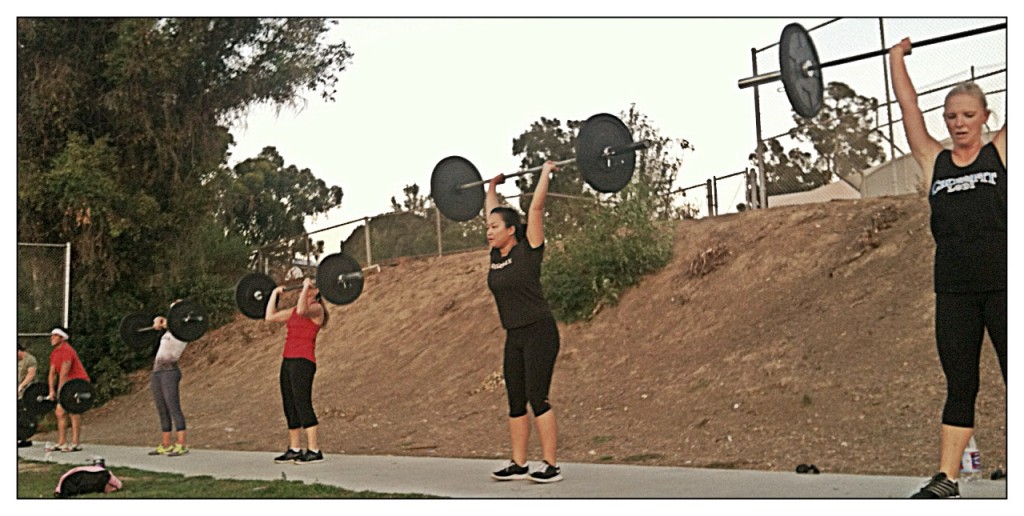 The 5:30 PM class taking down Tuesday's 21-15-9 triplet
Here is a recipe for my favorite Paleo meatloaf. Its from Stacey's blog "Yum Yum Get Some". You can find the link here for tons of Paleo and Zone recipes.
Paleo Meatloaf
1 lb Ground Beef
3-4 Italian Sausages, removed from the casing (I use HOT, but you can use Mild if you prefer)
2 eggs
1.5 + .5 cans of tomato paste
1/2 c Almond Meal
1 green bell pepper, chopped
1/2 red onion, chopped
1 TBSP Parsely
1 TBSP Italian Seasoning
2 TBSP garlic, chopped or minced
Salt and Pepper
Preheat the oven to 375. Mix all the ingredients together in a large bowl, by hand(except for one .5 of one of the cans of tomato paste). You really have to get in there and squeeze it all together. Place the mixture in a loaf pan, and spread the remaining .5 can of tomato paste on the top. Place in the oven to bake for at least an hour. When the top is browned, it is ready! Yum Yum!
Wednesday October 17th 2012
5:00, 6:00 & 7:00 – Expo Design Center – off Greenfield and Rancho Niguel in Laguna Niguel
5:30 & 6:30 – La Paz Intermediate – Upper Parking Lot off La Paz Rd
 WOD
A. Spend 15 minutes building to a heavy single of:
1 Power clean + 2 Front squats + 1 Split jerk
B. In teams of two, complete a 12 minute AMRAP alternating completed rounds of:
12 KB swings (53/35)
50 Meter shuttle sprint (25 M. out, 25 M. back)
6 Overhead squats (95/65)
50 Meter shuttle sprint (25 M. out, 25 M. back)
Talega Day #11
A. Skill/strength Session – Dead-lift review then spend 15 min building to heavy one rep
B. "Lucky Sevens"
With 10 mins on the clock complete:
400 Meter run
In remaining time perform AMRAP of
7 Box Jump @ 20″
7 Burpee
7 KB swings (53/35)