Don't Get Too Excited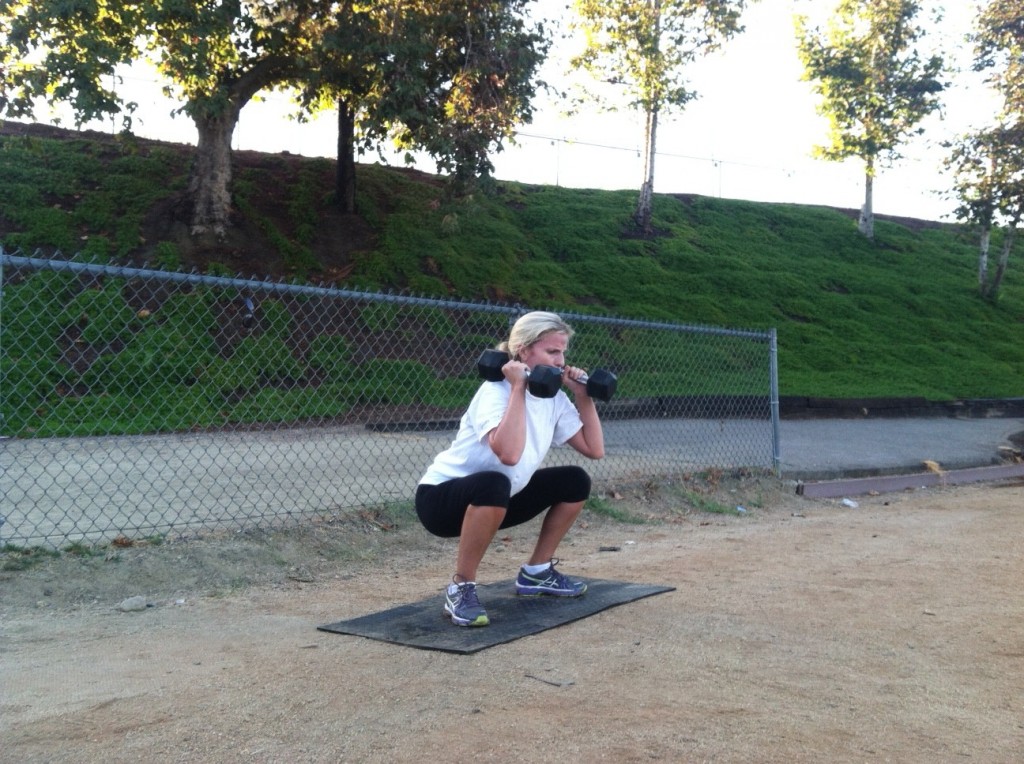 Now thats a pretty good looking dumbbell thruster, Go Brooke!
Good news Nation, we have pretty much come to terms with the Laguna Design Center.  We have submitted one final counter offer, but we are really close and we expect to agree to terms either today or early tomorrow.  Now agreeing to terms isn't a signed lease, but it is a huge step in the right direction.  We will still have to agree to a final lease contract, but the price, size, duration and other key terms have been agreed to and the lease is really just a formality.  Here are some details about the location, the address is:
23811 Aliso Creek Road, Suite 101
This location is directly across the street from Whole Foods, behind the 24 Hour Agassi Center and right next to the newly opened yoga studio U & The Mat.  The box will be 4125 sq/ft, has 20 foot ceilings, will have a small kids room, and will have 2 bathrooms (one containing a shower).  The bathrooms are a huge deal, as none of the suites at the design center have their own restrooms.  The center is setup more like an outdoor mall, with shared centralized restrooms.  We considered in suite restrooms a must have feature and getting them has been one of the reasons our negotiations took so long. Anyway, more details will come as they become available, but know that we are working on it everyday and that we appreciate all the support you've given us so far.  We are almost there Nation!
– Michael Starich, Business Manager
***** BARBELLS FOR BOOBS – UPDATE!!!! ***** ON SEPTEMBER 28TH AT 7:00 PM. THIS EVENT IS HOSTED BY OUR FRIENDS AT CROSSFIT COSTA MESA,  IF YOU ARE INTERESTED IN PARTICIPATING AND DONATING PLEASE REGISTER HERE. ALSO, WE ARE JUST NOW FINDING OUT THAT ITS A $20 DONATION AT THE DOOR TO GET A SPOT IN A HEAT. WE WERE UNDER THE IMPRESSION THAT REGISTERING/DONATING ON THE SITE WAS YOUR TICKET TO PARTICIPATE BUT WE WERE WRONG. WE WILL HAVE  MORE DETAILS ON THIS AS WE GET CLOSER TO NEXT WEEKEND. 
Other stuff:
Be sure to set the DVR for tonights airing of the Mens competitions from this years Reebok Crossfit Games. BE INSPIRED!
The 2012 Reebok CrossFit Games continues on ESPN2 tonight starting at 10pm ET and tomorrow starting at 8pm ET.
Thursday September 20th, 2012
5:00, 6:00 & 7:00am: Expo Design Center – Off Greenfield & Rancho Niguel in Laguna Niguel
5:30 & 6:30pm: La Paz Intermediate – Upper Parking Lot off of La Paz Rd.
WOD
A. For 5 minutes practice Turkish Get-ups, alternating arms and increasing load over the 5 min period
B. EMOTM X 7 Minutes
15 double unders
10 Kettle -bell swings (70/53)
Rest 5 mins
C. For time complete:
400 Meter sandbag run (60/40)
Then….
150 reps of:
Wall ball shots (20/14)
Finish with….
400 Meter sandbag run (60/40)