Success Story – Kari Hoblitzell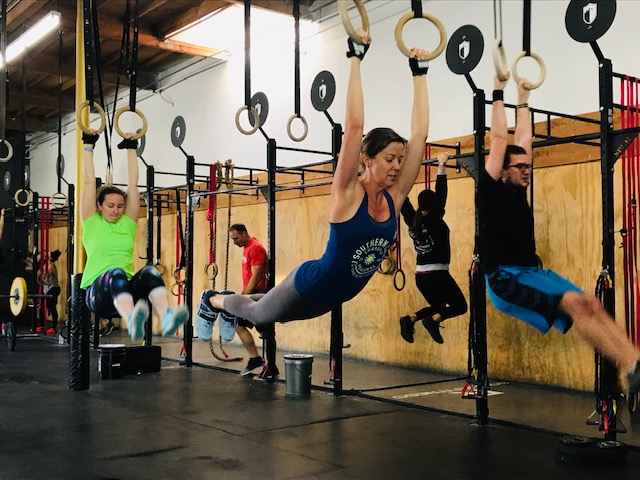 Kari Hoblitzell
CrossFit has without a doubt changed my life! In combination with the Paleo diet, I leaned out 20 pounds within the first six months, and five years later I am maintaining weight and healthier & more fit at age 44 than ever before.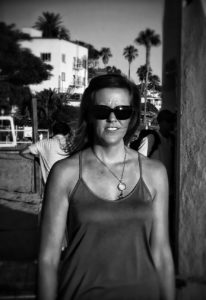 Before CrossFit, my sport was running beginning with track and cross-country through high school. In my late 30s, I noticed my body was gaining and holding onto weight despite regular exercise. As I approached 40, a couple of friends my age who were already doing CrossFit encouraged me to give it a try. I was invited to watch a competition at Ruination and promptly started the on-ramp program. I love CrossFit. I crave it. And I see it in my future for many years to come.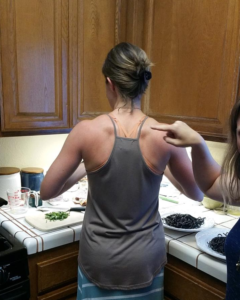 It's not too often that I "Rx" a workout at Ruination. I do CrossFit only three days a week and still go for runs on off-days. Workouts are always scalable, and the results from CrossFit are remarkable. The benefits are not only physical; CrossFit challenges us and builds confidence and courage. And it truly is functional movement for life. The change in my physical strength and mobility is undeniable. I often say out loud, "Thank goodness for CrossFit!" when I'm loading up the truck or moving boxes around in the garage.
In 2018, four years in, things really started to click for me. In February, I finally had the courage to drop into another box while I was traveling. Now my Reeboks, wraps and gloves always get packed in my suitcase. I love dropping into other boxes, and the CrossFit community is welcoming EVERY-where. I even find that I push myself a little harder when I work out at another box.
My newfound courage led me to sign up for the 2018 CrossFit Open – I had not participated in the Open before and it was full of surprises. I was able to do 18.2 Rx, which meant squatting two 35# dumbbells I'd never before used in a workout. In 18.3, I was thrilled to do un-assisted pull-ups for the first time in my life – not one, but six, accompanied by a lot of determination. The experience encouraged me to push myself a little harder during WODs, and gave me confidence in my ability to push beyond "known limits" and enthusiasm to work on challenging movements.
As the year went on, I was able to lift more weight and my core & upper body strength was noticeably improving. Best of all, I have finally been able to do skill movements, some of which I did not see in my future when I started CrossFit: rope climbs, handstand push-ups, plank push-ups and toes-to-bar. I still cannot see myself doing muscle-ups, but perhaps in another five years I'll look back at this and smile!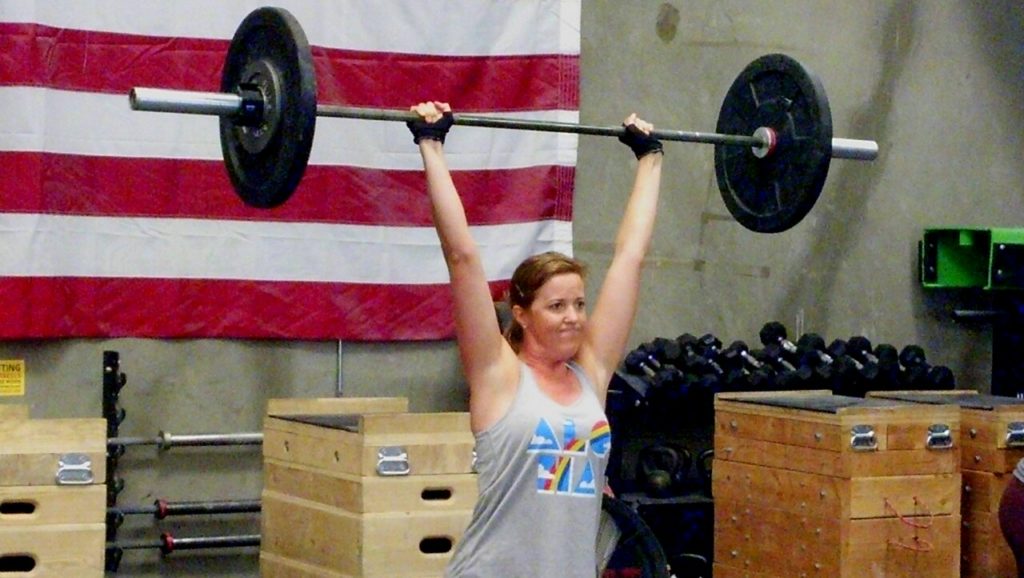 FUN FACTS:
Favorite workouts: Murph, 12 Days of Christmas
Favorite movements:  Handstand push-ups, deadlifts, toes-to-ring
Least favorite movements:  Snatch, thruster
Favorite activity outside of the gym: 1. Eating 2. Cooking (because I love to eat amazing, wholesome and nourishing food!)
Favorite song to workout to: Must have loud, energizing music, but can't say I have a favorite song.
ACCOMPLISHMENT YOU'RE MOST PROUD OF:
PERSONAL RECORDS (PRS):
PR(s):  85# bench press (I remember how heavy 55# felt when I started CrossFit!)
Strict handstand push-up (x2 ab mats)
165# deadlift
85# thruster
COACHES/MEMBERS WHO'VE MADE A DIFFERENCE:
I chose Ruination CrossFit after hearing so many people say the coaches are second-to-none. The coaching and community are reasons to stay. It means everything when others cheer you to the finish…and some days that's what it takes to get you to the end!
GOALS FOR 2019:
100# squat clean
Unbroken double-unders
Pull-ups – to lose the band all-together!