Monday January 14th 2013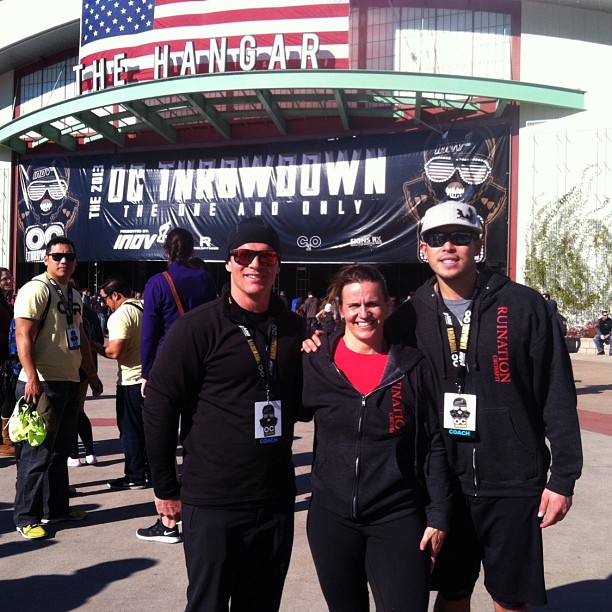 Tonia with her coaches, Darin and Rich. She took forth place this weekend at the OC Throwdown after fighting it out through six grueling workouts. Tonia, you made us so proud! Full interview coming this week.
WOD
A. 20 rep max Back Squat
– Warm up and build to a 20 rep max back squat.If you completed all 20 reps last week look to complete with 5-10 more pounds.
B. For time:
1000 meter row
rest 5 min
C. For time:
10 rounds of
2o double-unders
5 Burpee
Recovery/Mobility/Flexibility
1 Min/each – Super squat sequence
1 Min/each – High hamstring floss
2 Min/each – Banded shoulder distraction with external rotation
2 Min – T-spine smash on roller
Competitor WOD (team)
A.Snatch Complex
5 sets of: Power Snatch + Hangs Squat Snatch + Squat Snatch – across
B. The Chief's Snatch
5 Rounds of:
AMRAP 3:
3 Power Snatches, 135/95
6 HR Push ups
9 Squats
1 min rest between rounds.
C. 3 – 5 Rounds NOT for time:
8 Glute Ham Raises
12-15 Band Pull a parts
Weekly Member Challenge # 5
2 Min max reps double under
rest 2 min
2 Min max reps double under
– Complete as many reps as possible in both AMRAPs. Score is total number of reps.