Success Story – Chris Reza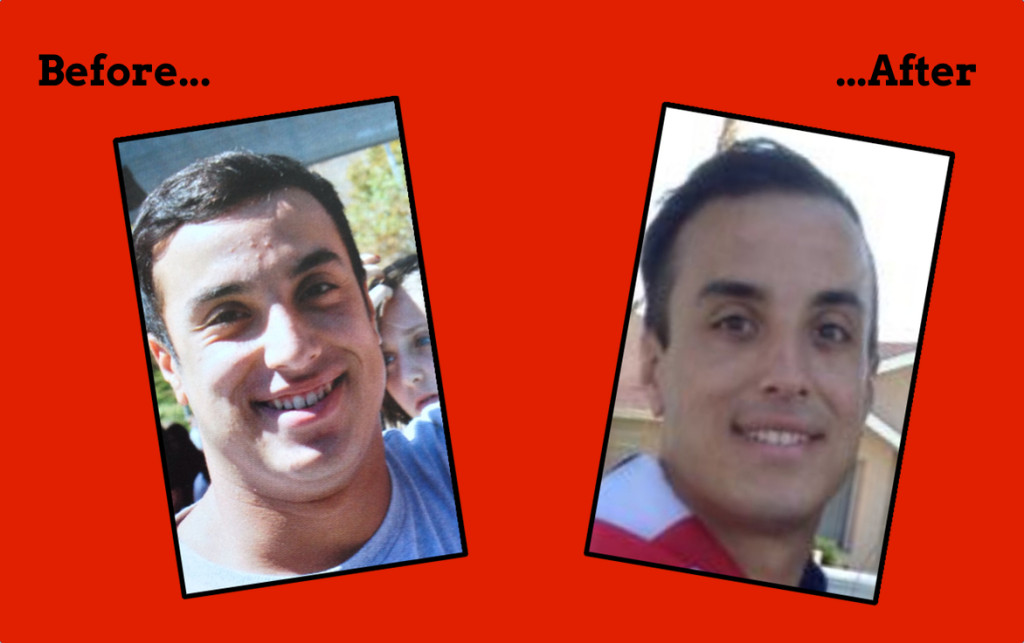 Chris Reza
Junior year of high school, 2011, I had spent my summer days working at Dairy Queen. It was my second job as a teenager. The pay was great for my age, even better, the free food. I spent many lunch breaks occupying the store's food trays full of french fries, onion rings, blizzards (blended ice cream), shakes, burgers, and anything consumable basically! It was a disaster, to say the least.
I found myself one day, on lunch break, with a tray of food that in front of me. This tray consisted of four double cheeseburgers, fries, onion rings, and a small banana cream pie blizzard (my favorite to this day). I devoured that meal, like any other, and realized finally what I have been doing to myself and my body. At the rate I ate, diabetes was not far from irrelevant, as well as, obesity was around the corner.
That night I had stepped on my scale at home, tucked away in the darkness of my pantry, and the shiny, bright red colors appeared showing the consecutive numbers two, two, and five.I stood at five-feet and eight inches, and weighed two-hundred and twenty-five pounds, at age 17. Let's just say I never took a glance at a Body Mass Index chart, ever.
That night, I decided to change things around. This was the beginning of a healthier and happier lifestyle. I invested some money in running shoes, athletic apparel, and I was ready. I started running everywhere. Wrestling season was about to start, and it was time to change gears. However, it was not only the physical conditioning that needed to change, but also, most importantly, my diet needed a revamp.  
I began eating healthier options, smaller portion sizes, more often, and soon enough results were showing. In other words, I started a routine of running 3-4 times a week, ate more greens, lean meat, and completely cut-out fast food and soda (to start), and found myself smiling a lot more. It is true, when you feel healthy, you feel happy.  
I started noticing differences in all aspects of my life just from small changes in my diet and workout routine. It was astonishing, and refreshing, it felt like shaving off weight was creating a new Christopher Reza, a new me.  
Yet, there was still another major piece of this transformation that had taken about six months to appear in my life, CrossFit. My oh my, how I can never repay CrossFit for the opportunities it has given me. I began CrossFit through Ruination, under the teen program. The rest was history from there, as I had developed into an individual who took pride in respecting my health and kept aware.
Approximately two years later, I had taken my poor habits and disciplined myself into a soldier. Two-hundred and twenty five pounds turned into one-hundred and sixty pounds. I will never go back, you can count on that.